Venice
Monuments and culture - interesting information about Venetian monuments such as the Basilica and Saint Mark's Square, the Doge's Palace and the most famous bridges.
Accommodation - advice on where to stay, whether you are interested in luxury or cheap accommodation
Food and drink - what you should try here - risotto, polenta, sardines, local wine,...
Practical advice - advice on how best to plan your visit to Venice.
Famous people - traveler, composer, writers, painters,... connected with Venice.
Weather - favorable periods for visiting Venice, when does it rain, when is there a risk of flooding and when does the sun shine the most?
AI poem - what did artificial intelligence think about this romantic city?
Venice is located on the northeastern coast of Italy, in the Veneto region. They built the city on more than 100 islands in the lagoon of the Adriatic Sea.
Venice is famous for its network of canals, which serve as the main means of transportation around the city. The most famous Grand Canal crosses the city from northwest to southeast.
Venice's rich history dates back to the 5th century A.D. The city was an important trading center and naval power during the Middle Ages and Renaissance.
In Venice, you can see a lot of historical monuments and architectural gems. Among the most famous are St. Mark's Basilica, the Doge, the Bridge of Sighs, the Palazzo Ducale (Doge's Palace) and many others.
Many important artists lived in Venice, including Canaletto, Tintoretto and Veronese. You can also enjoy the city's rich cultural scene, including opera, theater and a biennale.
Gondolas, traditional Venetian vessels, add to the romance of the city. Gondoliers take tourists along the canals and offer them a unique view of Venice.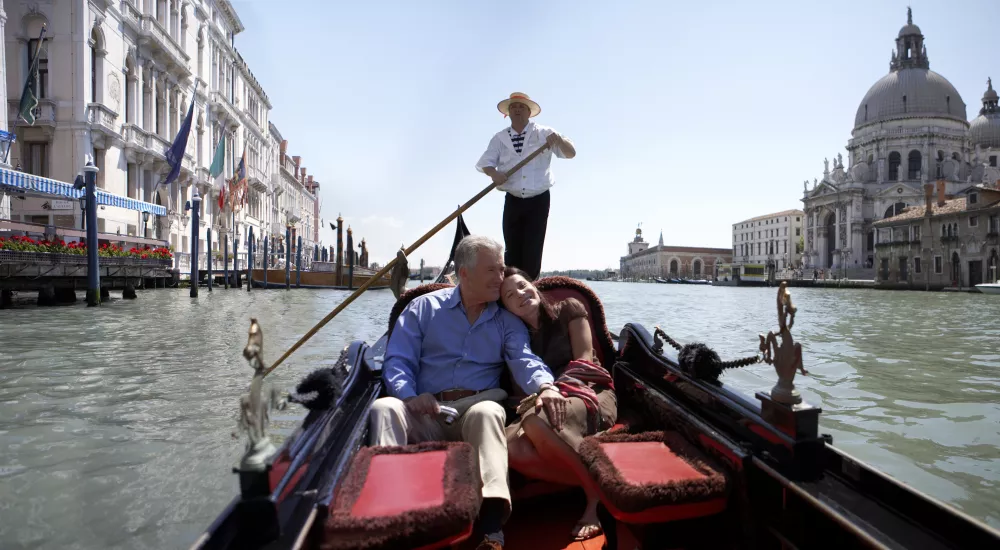 You can also go to Venice for culinary experiences – local traditional dishes include risotto, sarde in saor (sardines fried with caramelized onions) and many desserts including tiramisu.
The Venice Carnival is a world-famous event during which the city is transformed into a unique backdrop with masks, costumes and celebrations.
St. Mark's Basilica (Basilica di San Marco) - a basilica founded in the 9th century, it is one of the most prominent churches in Venice. They decorated it with golden mosaics and many artistic treasures. It is the most famous sacral Byzantine building in Europe. You can find this "temple of gold" at:
Saint Mark's Square - the main square of Venice named after Saint Mark, the patron saint of Venice. Not only thousands of tourists but also local pigeons gather here. ;)
Campanile di San Marco - a stone tower with a belfry dedicated to Saint Mark offers panoramic views of the city and the lagoon. Where else would you find it than on the square of the patron saint of the city.
Doge's Palace (Palazzo Ducale) - a palace built in the so-called Venetian Gothic style served as the residence of the Doge and the center of Venetian political power. Its courtyard, courtroom and museum are open to the public.
Bridge of Sighs (Ponte dei Sospiri) - this romantic covered marble bridge connects the Doge's Palace with the old prison. It is famous for its name and beautiful architecture. It measures only 11 meters.
Rialto Bridge (Ponte di Rialto) - the oldest and most famous bridge over the Grand Canal in Venice. It is surrounded by shops and markets.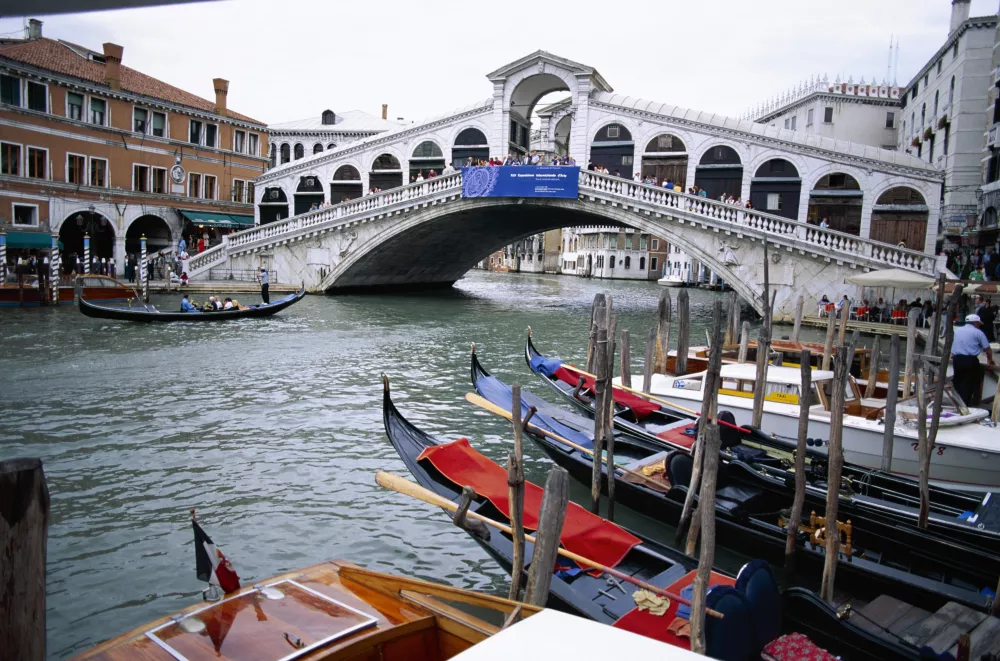 Scuola Grande di San Rocco - 16th century building, important artistic center. Painter Tintoretto painted it with his frescoes.
Palazzo Grassi - a modern art gallery in a magnificent palace with contemporary art exhibitions.
Venice has more tourists than locals for most of the year. Therefore, even though the city has around 260,000 inhabitants, there are over 3,000 different accommodations of all categories, from hotels, to boarding houses and apartments, to cheap hostels.
More luxurious hotels are located mainly near the historical monuments of Venice, in the vicinity of St. Marko and near other tourist attractions. Accommodations with rooms with terraces and views of the famous Venetian canals are sought-after by visitors.
You can enjoy true luxury at the 5* Hotel Cipriani, A Belmond Hotel, Venice. The hotel includes not only an outdoor pool, a beautiful garden, a wellness center, a restaurant with a terrace right by the sea, but also a tennis court.
The beautiful 4* hotel Madama Garden Retreat offers, in addition to the garden, a 24/7 reception, which can be useful for those who arrive in Venice late. The hotel is located about 1 km from the famous Rialto Bridge.
If you want to enjoy the real Venice, you can stay in the modernly furnished Palazzo Vendramin Costa. In the air-conditioned apartments you will also find a furnished kitchen.
The stylishly furnished guest house La Finestra sulle Beccarie can be found less than a kilometer from Saint Mark's Square. Here you can enjoy beautiful views from the roof terrace and in the evening you can plunge into the whirlwind of nightlife with the tour de bars. Attention, only adults can stay here.
If you like to relax in the countryside, check out the Primaluce guest house, which you can find a short distance from the Basilica dei Frari. Saint Mark's Square can be reached on foot in about 20 minutes.
You can also find several hostels in Venice. The top-rated Combo Venezia is located in a reconstructed 12th-century monastery not far from the Fondamenta Nove water bus stop. You can cook here in the shared kitchen or relax on the terrace over the water.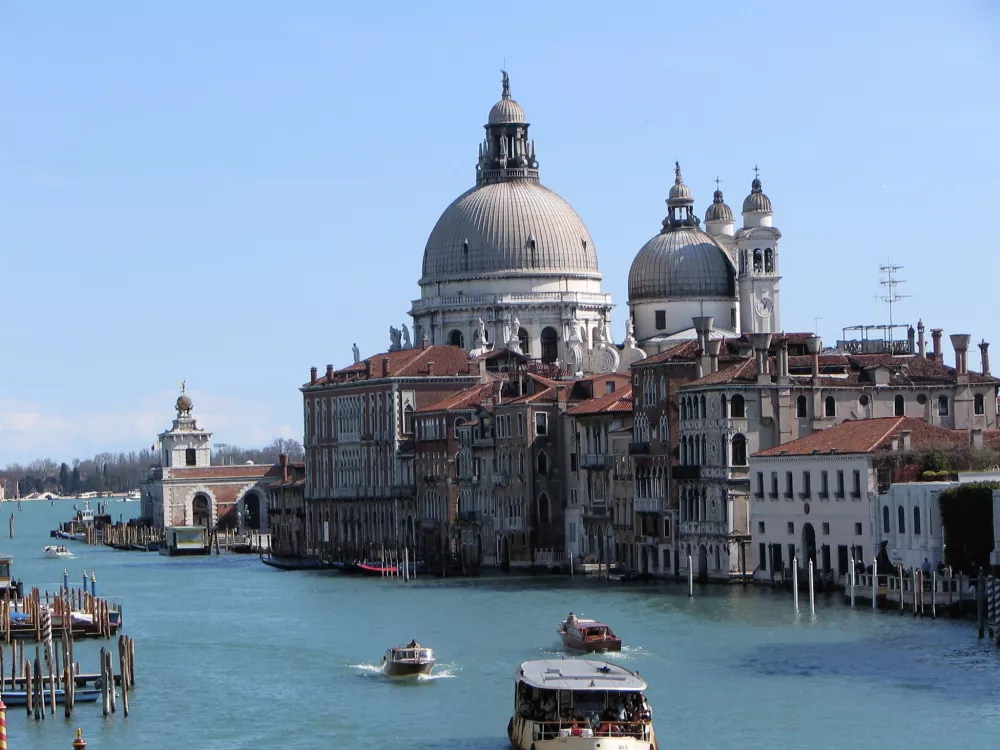 Food and drink
Venice has its own regional cuisine with traditional dishes and ingredients characteristic of the lagoon and surrounding areas. Here are a few of them:
Risotto - in Venice they cook different types of these rice dishes. Among the most famous are risotto with shrimps (Risotto al Gamberi), risotto with mushrooms (Risotto ai Funghi) or risotto with seafood (Risotto ai Frutti di Mare).
Polenta - porridge made from corn flour. It is often served with various sauces, such as venison or mushroom.
Sarde in Saor - a traditional Venetian dish of fried sardines served with caramelized onions, raisins and vinegar. Try this distinctive dish if you like sweet and sour food.
Seppie al Nero - cuttlefish (mollusks) cooked in their own black ink sauce, which gives the dish its signature black color.
Fegato alla Veneziana – veal liver fried in onions and stewed in wine, creating a tasty sauce. It is usually served with polenta.
Bigoli - a type of pasta, similar to spaghetti, often served with different sauces, such as sardine or duck.
Anchovies - a paste or spread made from fish meat, olive oil and spices, often served on toast.
Desserts - traditional Venetian desserts include tiramisu, frittelle (doughnuts), and zaletti (almond or chocolate biscuits).
Wine - The Veneto region, which includes Venice, is famous for its wines, including prosecco and valpolicella.
Venetian cuisine is characterized by simplicity, fresh ingredients and tasty combinations. When visiting Venice, be sure to try some of these traditional dishes and enjoy the rich Venetian cuisine.
Venice is a popular tourist destination, so it's a good idea to book accommodation in advance, especially in high season.
If you plan to visit the most famous sights, such as St. Mark's Basilica or the Doge's Palace, it is better to buy tickets online in advance to avoid queues.
Venice has an extensive public transport network, which includes the vaporetto, water buses. Buy public transport cards to get around the city with ease.
There is a lot of walking in Venice, so put on comfortable shoes and explore the city on bridges and narrow streets.
Water – in Venice, you will find many fountains with continuously flowing drinking water, where you can refill your bottle for free.
Avoid the main tourist routes and discover hidden corners and less visited parts of the city where you can experience authentic Venetian life. At the same time, keep in mind that Venice is a labyrinth of narrow streets and canals and that you can get lost, so allow yourself enough time to explore the city.
If you plan to visit during the Venice Carnival or other festivals, book your accommodation and tickets well in advance. The carnival usually takes place here in February, the Venice Film Festival then at the turn of August and September.
Venice has a mix of Mediterranean and continental climates.
During the summer, temperatures usually climb up to 30 °C. Most of the time it is clear, but storms can surprise you in August. The pleasant temperature of the sea invites you to swim from June to the end of September.
Winter temperatures usually do not drop below zero, it snows here only rarely, but it rains even more often.
There is a risk of flooding in November, so it is not highly recommended for a visit. On the other hand, accommodation prices will drop in the period from November to Carnival.
Marco Polo (1254 - 1324) - the famous traveler and adventurer Marco Polo was born in Venice. He became famous with the travel book "Il Milione", where he described his adventures in Asia.
Antonio Vivaldi (1678 - 1741) - a famous composer, born in Venice and one of the most important musical talents of the Baroque era. He is particularly known for his violin concertos.
Giacomo Casanova (1725 - 1798) - a famous Venetian writer, diplomat, spy and also one of the most famous seducers in history.
Canaletto (1697 – 1768) - Venetian painter and engraver Giovanni Antonio Canal, famous for his views of Venice and other European cities. Representative of Venetian Illosionism.
Thomas Mann (1875 - 1955) - German writer wrote his famous novel "Death in Venice" (Der Tod in Venedig), which takes place in Venice.
Francesco Guardi (1712 – 1793) - Venetian painter, known for his paintings of Venice, which capture the beautiful scenery of the city.
Carlo Goldoni (1707 – 1793) - Venetian playwright whose comedies are still performed all over the world today. He wrote comedies and librettos all his life, during other jobs, such as the secretary of the Venetian ambassador in Milan or the tutor of princesses in Paris.

A poem about Venice invented by artificial intelligence
In Venice, the city on the water, where the canals meander smoothly,
The crystal mirror of the lagoon, where dreams and reality collide.
Palaces and bridges over the waters, jewels of the world heritage,
Here, history and art touch the sky.
St. Mark's Basilica rises to the blue sky,
Its interior shines with mosaics, jewels that never lose their shine.
Vaporettos sail along the Grand Canal, the city pulses with life,
Venice, that's the magic that keeps absorbing us.
In Piazzale San Marco the clocks are ringing, the city is pulsing with rhythm,
Gondoliers row, sing songs of love, their voices like a symphony.
As the sun sets over the horizon, the lagoon turns into a mirror of gold,
Venice, the city of dreams that will never lose its glory.
Sarnele is cooked in its black sauce, it tastes like svardela saor,
Venetian cuisine, which has such a rich repertoire.
At night, when Venice shines with lights on the water,
The city of romance, its beauty still moves us.
Venice, the city on the water, the pearl in the crown of Italy,
Where history and art are combined in a single harmony.
The city that gives us a piece of heavenly beauty,
Venice, we will never forget your immortal glory.