Rome
Monuments and culture - interesting information about the most famous places in Rome such as Colosseum, Pantheon, Vatican,...
Accommodation - advice on where to stay, whether you are interested in the most luxurious accommodation or cheap hostels, if you want garden or swimming pool,...
Food and drink - what you shouldn´t miss in Rome - pizza, carbonara, amatriciana, wine romanesco,...
Practical advice - drinkng fountains, sun protection, what should you wear, public transport, markets,...
Famous people - emperors, philosophers, artists connected with Rome.
Weather - favorable periods for visiting Rome, the most rainy month, dry summer, winter temperatures,...
AI poem - what did the artificial intelligence come up with about the capital of Italy?

Rome, the capital of Italy and one of the most important cities in the world in terms of history, culture and art, has more than 2,800 years of history. Founded by the legendary Romulus and Remus in 753 BC, Rome was the center of the Roman Empire, which controlled a vast territory and had a significant influence on the development of world civilization.
In Rome, you will find a lot of historical monuments, many of which are on the UNESCO World Heritage List. Among the most famous are the Colosseum, the Roman Forum, the Pantheon, the Vatican Museum with the Sistine Chapel, the Trevi Fountain and many others.
The Vatican, an independent state within Rome, is home to the Pope and various ecclesiastical institutions. You can see St. Peter's Basilica here. Millions of faithful Catholics go here every year.
The city offers a rich cultural life including concerts, theater performances and exhibitions.
You can try traditional Italian dishes such as pizza, pasta or tiramisu in one of the many local restaurants, pizzerias or trattorias.
The city is famous for its architecture. Here you can admire ancient Roman buildings, Renaissance palaces and Baroque churches. Artists such as Michelangelo, Leonardo and Raphael gave the city a unique Renaissance look.
Rome has an extensive public transport network, including the metro, buses and trams. Fiumicino International Airport (Leonardo da Vinci) serves as the main gateway for visitors from all over the world.
The "Maratona di Roma" marathon is held every year, attracting thousands of runners from all over the world. It runs in the picturesque setting of Roman streets, past many historical monuments.

The Colosseum – a monumental building in the city center from the 1st century AD. Gladiator matches, hunts and parades took place here. This is the largest amphitheater in the world! It has an incredibly sophisticated system - they even used to stage a naval battle here.
The Pantheon - an amazing monumental temple is probably the best-preserved monument from the times of ancient Rome. They built it in 27 BC.
Fontana di Trevi - the most famous of the many Roman fountains was built in the 18th century in the Baroque style. It is said that whoever throws a coin into the fountain will have his wish come true.
The Vatican - this independent state was founded in 1929 in the middle of Rome as the seat of the head of the Catholic Church. The Vatican Museums offer an amazing selection of artworks and objects, and not all of them are on public display. Museums are also accessible to wheelchair users.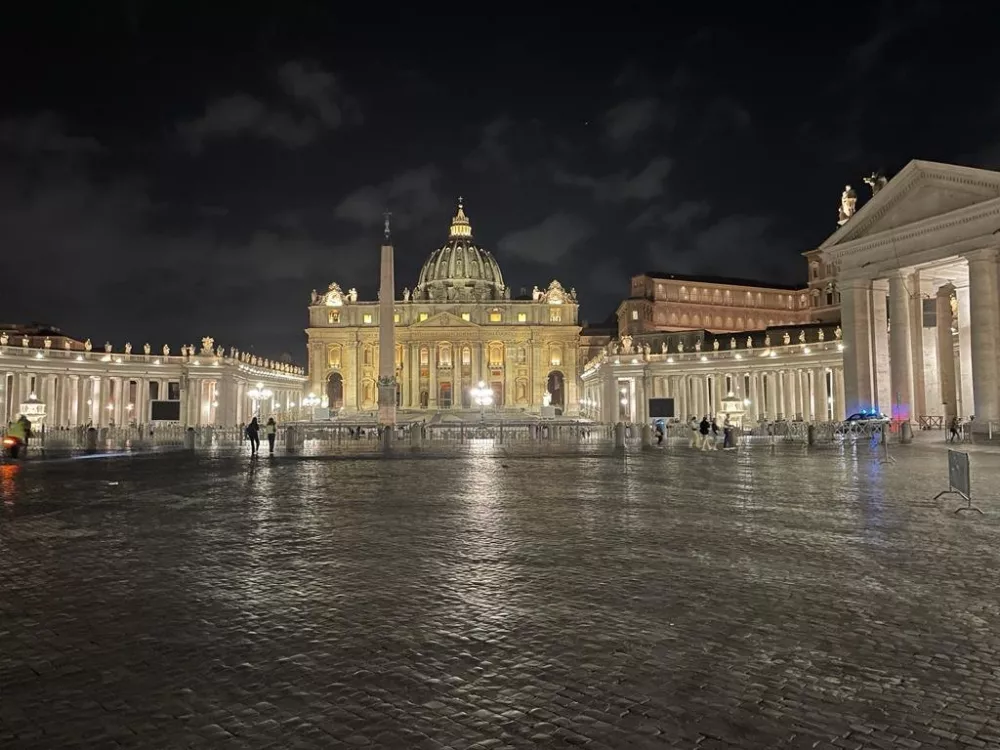 Forum Romanum – the center of public events of ancient Rome. Triumphal processions, courts, political gatherings, and large markets were once held on this square. It achieved its greatest fame around the turn of the century. Today, history breathes on us here - we can find a lot of excavations and remains of old buildings here.
The Spanish Steps – perhaps the most famous steps in the world were built by Pope Innocent XIII. at the beginning of the 18th century to connect the Piazza di Spagna and the Church of Santa Trinitá dei Monti.
Basilica of St. Petra - The Vatican Basilica and one of the largest churches in the world. Here, according to legend, they buried Saint Peter. That is why it became an important place of pilgrimage from the 2nd century AD, and the first basilica was built here already at the beginning of the 4th century. The reconstruction of the basilica to its present form began in 1505 and lasted for around 150 years.
Angel Castle - this large circular building was built in the 2nd century as the mausoleum of Emperor Hadrian. Over the course of the century, it functioned as a papal fortress, residence or even a prison. Today you can visit the museum here.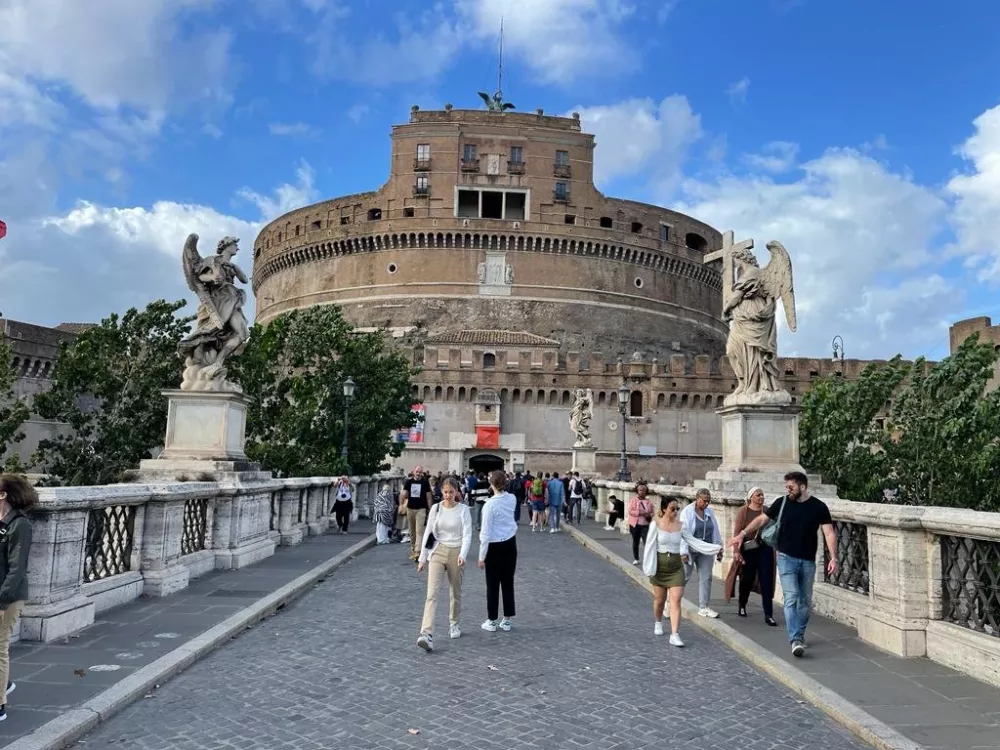 You can choose from wide range of accommodation in Rome. You can will find here over 12,000 hotels, residences, apartments, boarding houses, but also hostels and motels. The largest share of the offer is made up of apartments.
Accommodation prices depend on the level of accommodation, but also on the period and location.
The greatest demand is for accommodation in the historic center of the city near monuments such as the Basilica of St. Peter's Basilica (Basilica di San Pietro), the Trevi Fountain or the Pantheon.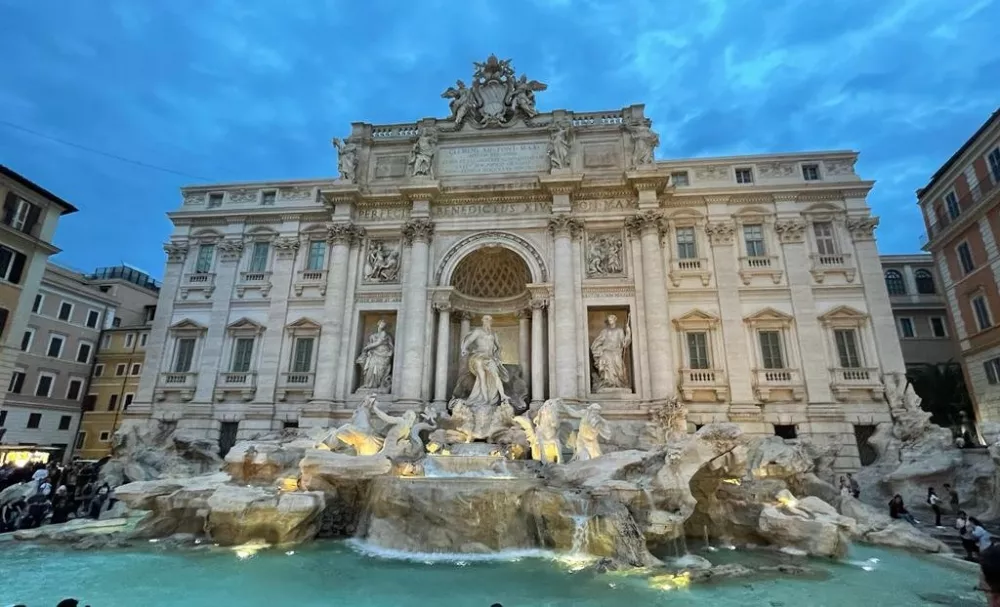 If you are looking for a pleasant guest house in the center, check out Foro Romano Luxury Suites.
If you prefer a hotel, try the stylishly furnished Martius Private Suites Hotel, located in the Pantheon district. For lovers of luxury, it offers a presidential apartment or a presidential SPA suite.
Rome is home to world-famous hotel chains, such as The Westin Excelsior Rome. This 5* hotel offers its clients real comfort of accommodation and services.
If you come to Rome by train, there are plenty of accommodation options close to the train stations in central stations such as Termini or Trastevere. A short distance from the station is the pleasant 2* Rossi hotel, where you can store your luggage if you arrive in the city too early or if you leave at night.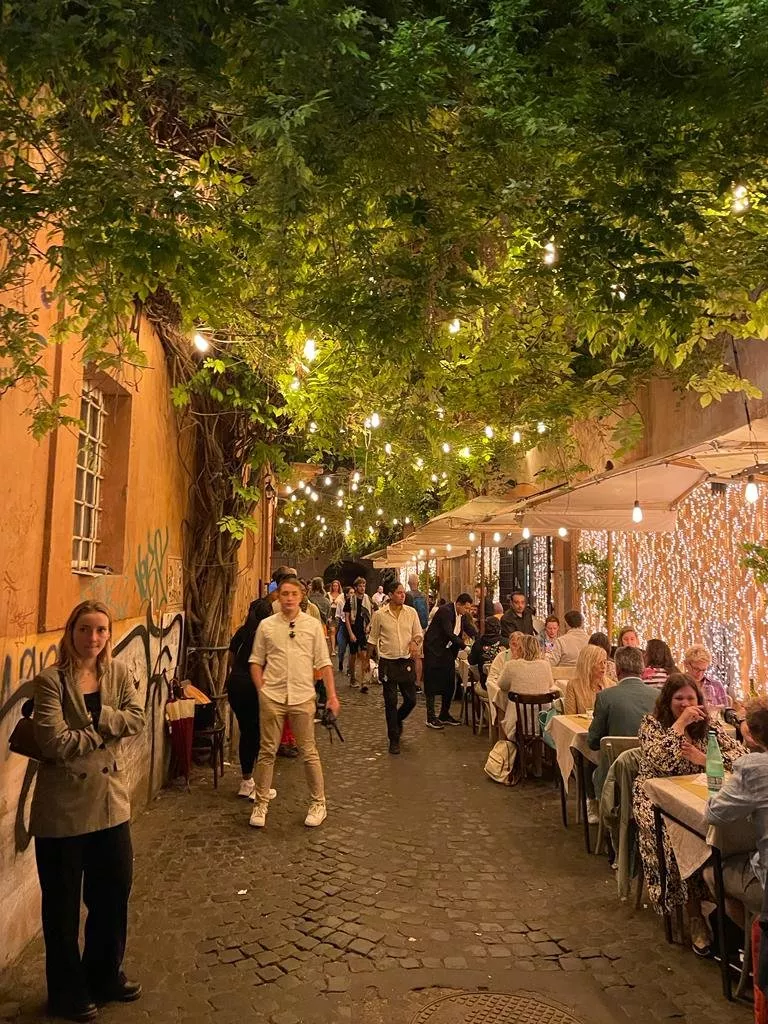 If you prefer quiet accommodation with a garden and a swimming pool, check out the Livia Valeria Palace. In addition to the kitchen, every apartment also has a bathroom with a jacuzzi.
Among the hostels we can recommend, for example, The RomeHello, which is located in the city center and has its own garden.
Cacio e Pepe – This simple pasta is prepared with grated Pecorino Romano cheese and black pepper. It is one of the most popular Roman dishes.
Carbonara - Another popular pasta specialty, carbonara contains guanciale (smoked pork cheek), eggs, Pecorino Romano cheese and black pepper. This dish has a creamy texture and rich flavor.
Amatriciana - This is a pasta dish with a sauce based on tomatoes, guanciale, onions, Pecorino Romano cheese and pepper. Amatriciana is most often cooked with bucatini pasta.
Supplì - Supplì are fried rice balls or rolls filled with mozzarella and often tomatoes as well.
Pizza - Roman pizza is known for its thin and crispy crust. You will most often find this type of pizza in Czech pizzerias. It is prepared with olive oil, tomatoes and cheese, often other ingredients are added.
Carciofi alla Romana - Artichokes prepared with olive oil, garlic, mint and lemon juice are a typical Roman dish and a popular appetizer (antipasti).
Romanesco – Romanesco, a wine from the Lazio region, which includes Rome. Local varieties include Frascati or Castelli Romani
Espresso – The local coffee is really small and really strong. Locals enjoy it not only in the morning to wake up better, but also ten times a day!
Aperitivo - A traditional light snack with friends before dinner accompanied by drinks such as Aperol Spritz or Negroni.
Gelato – Don't miss traditional Italian ice cream served in large portions. :)
If you plan to visit popular sights such as the Vatican, the Colosseum or the Borghese Gallery, it is better to book your tickets in advance online. This will save you time and avoid long queues.
Rome has an extensive public transport network, including the metro, buses and trams. If you are not staying right in the center, buy one-day or multi-day tickets that allow you to easily move around the city.
Take comfortable shoes for walking around Rome, as you will be walking a lot. You will often find cobblestones and cobbled paths near the sights, which can tire your feet more quickly.
Respect local customs and wear decent clothing that covers your shoulders and knees when visiting churches and cathedrals.
Rome can be very hot in the summer, so don't forget sun protection such as sunglasses, sunscreen and a hat.
You don't need to pack a water bottle in your backpack for walks in Rome. Throughout the city you will find plenty of drinking fountains with refreshing water. The locals call them "noses".
Try local culinary specialties such as Cacio e Pepe or Carbonara. Try to find local restaurants outside the tourist areas for an authentic experience.
Try local snacks at markets such as the Mercato di Testaccio. There you can taste traditional Italian dishes and delicacies.
In Rome you can look forward to a typical Mediterranean climate.
During the dry summer, temperatures rise as high as 40°C!
In winter, temperatures almost never fall below 7°C and during the day they hover around 15°C. It rains more in winter - the rainiest months of the year are November and December.
It follows that for most tourists spring and autumn appear to be less favorable periods for visiting Rome.
Julius Caesar (100 – 44 BC) - an important Roman general, statesman and dictator who played a key role in the history of the Roman Republic.
Augustus (Octavian) (63 BC - 14 AD) - Gaius Octavius Thurinus, later known as Augustus, the first Roman emperor and founder of the Roman Empire.
Marcus Tullius Cicero (106 – 43 BC) - Roman philosopher, orator, jurist, and politician whose writings influenced Western philosophy and rhetoric.
Michelangelo Buonarroti (1475 – 1564) - famous Italian Renaissance artist, known for his masterpieces, including the fresco in the Sistine Chapel in the Vatican.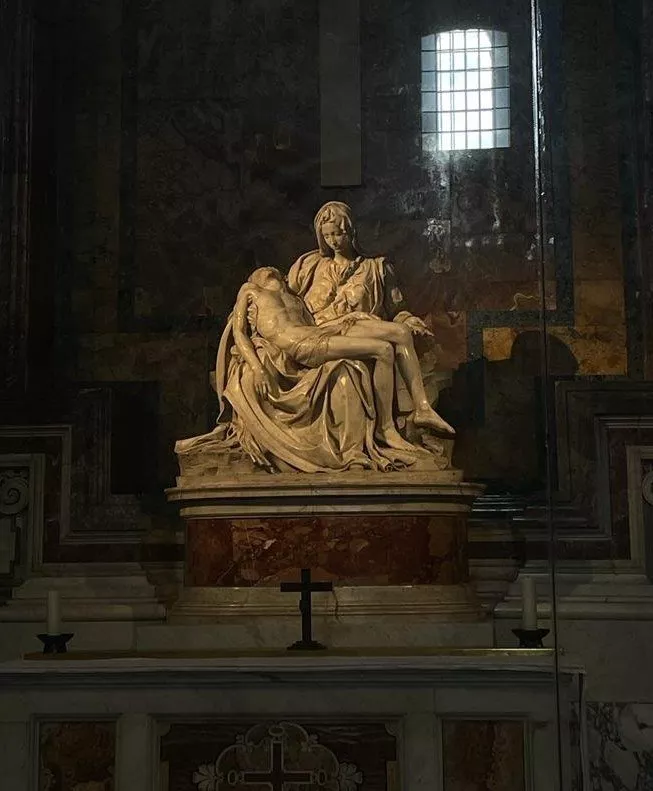 Galileo Galilei (1564 – 1642) - scientist and astronomer, worked in Rome. He became famous for his remarkable discoveries in the field of astronomy and the saying: "And yet it spins."
Gian Lorenzo Bernini (1598 – 1680) - an important Baroque sculptor and architect whose work adorns a number of Roman churches and public spaces.
Michelangelo Merisi da Caravaggio (1571 – 1610) – painter, an important Baroque artist whose dramatic and realistic paintings influenced the art of his time.
Gregory VII (1020 – 1085) - Pope Gregory VII, also known as Hildebrand of Soissy, played a significant role in the reform of the Catholic Church and the struggle for investiture in the 11th century.
Rome, eternal city, we celebrate you today,
With your history that leaves an impression on everyone.
Your beauty and charm, your beautiful land,
They are the foundation of the glory that still shines upon us.
Your ancient streets and Roman festivals,
The greatest fill us with pride and joy.
Forum and Colosseum, Vatican Golden,
They are the treasures of Rome, eternally immortal.
Your culture, art and architecture,
There are gems that capture our attention.
Rome, thy monuments are gifts of the ancient past,
And we celebrate you with gratitude and open arms.
Your kitchens, fragrant and delicious dishes,
We taste with joy as we walk your streets.
Your wine, your tunes, your beautiful sight,
They are proof of your immortal beauty and happiness.
Let us celebrate Rome, city eternal and glorious,
The heart of Italy, where history lives on.
Your sun, your waters, your culture and music,
They are the reason we love you, Rome, our eternal home.